Luxury Porta Potty
Get yourself an experience of luxurious and premium feeling in restroom when you are outdoor.
We provide our clients with the luxury and ultimate service of renting toilets and restrooms with luxury and premium feelings that can have a mixture of style, comfort, convenience, and outstanding features. When you are at an event or organizing one, you can have our service to impress your guests and give them luxurious feelings so that they could remember it forever.
We are happy to serve you wherever you want and however, you want because we make individualized toilets and restrooms for people who are in need of them. We provide you with VIP and luxury feelings in restrooms. 
We provide enough space for you to use the restroom with all the facilities such as flushing, neat sinks, and proper lighting. We offer a sense of comfort and quality with all the safety measures and into consideration to make your experience comfortable We have advanced and better-looking restrooms that are cleaner and more hygienic. Our professionals provide regular service for you with outstanding result We do understand that all events are not the same and all of them need unique service for restroom trailer We can provide our service to any event of any sizes or locations.
What sets Spotless luxury porta potty apart?
Our luxury restrooms are to use, hygienic and designed to provide a comfortable restroom experience for guests in the special event. You can trust us because we give you the facilities that required in every luxury restroom like proper sink with sanitizer, soap and many more, we also help you to maintain them by cleaning and sanitizing them every day. If you are also having any special events, then you can always remember us. We will make sure to satisfy your needs by giving you the best service in the town. Our rental toiles don't feel or appear like what you might typically see in public areas. With the Luxury Restrooms of Spotless Porta Potty Rental Service, you will experience clearing your stomach in public places like that of a lavish residence.
Spotless porta potty provides premium and portable restroom service which has outstanding features and facilities which make you feel like you are using your own house's restroom which is luxurious. We are very committed to our client's safety and satisfaction and that is the main thing that sets us apart. Other reasons for our uniqueness are:

Beautiful Interior Design:

Our designs are really cool and beautiful and are all modern and advanced with premium finishing, stylish decoration, extra lighting and a warm environment. When you think about feeling luxurious, these are the things that contribute to it and we provide you all these things in high quality materials.

Features and amenities:

The amenities that we provide to our luxury toilet rentals are not less than what we use at luxury homes. Some people like to live in luxury and can't use restrooms that are any less. So, we have beautiful and luxury restrooms that can make you feel superior and rest peacefully in a room.

Privacy at its best:

VIP toilets have extra and safe privacy with large space compared to other restrooms that can make your guests feel comfortable and at ease.
Our Luxury Porta Potty Options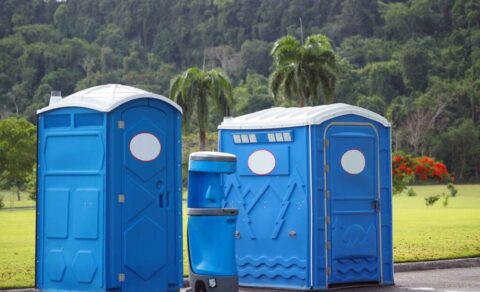 It is a trouble when you go outdoors where there are no permanent or bathroom and getting the urge of peeing or pooping during the event. We are the best rental service to choose for luxury restroom services when away from home. We give our topmost priority to user's health and to make the top standard for, restrooms and bathrooms. Our service is known for its reliability and effectiveness which is performed in a very professional way. We provide a customized period for our clients for renting the or bathroom according to their necessities. We give reliable and sufficient support to our customers in our renting period. Spotless Porta Potty Rental offers premium restroom service which has amazing features and facilities that make you feel like you are using your own luxury restroom. 
Spacious Standard Porta Potty–Our luxury porta potty comes with the option of standard, deluxe restrooms for VIP guests attending your events. They are spacious and very accommodating, only the finest interior, floors, a mirror, and clothes hook are provided.
Flushable Porta Potty–Our porta-potty is designed as a flushing toilet and a hands-free flushing sink.
ADA Porta Potty– Our ADA Porta potty comes with a width of at least 67" and a depth of 86.5" to give the guests comfort for people with disabilities and special needs.
High rise Restroom – All the restrooms are designed with high rise construction. It can easily be transferred or lifted by a crane to wherever it is needed.
Towable porta potty – For those clients working on construction sites, carry our luxurious restrooms with you wherever you go.
Office Seminar Trailer Restrooms– We offer you full amenities equipped and a clean restroom so that you and your guests can rest comfortably just like in an indoor restroom on the job site.
Solar Restrooms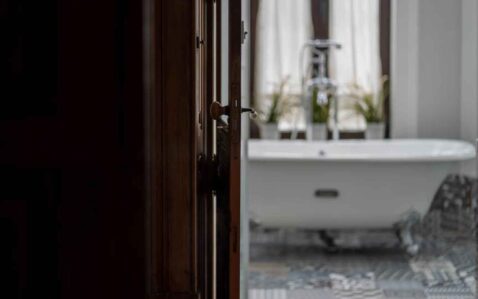 Spotless porta potty rental is the trusted and one of the best choices in Orlando when it comes to giving the best services to clients. It provides normal to luxury restrooms and toilets for your guests and you. We have been providing service to our clients for 15 years and we are happy serving them because of their love and response. The reasons for choosing us or considering choosing us are:
Maintenance and Cleaning:

Our luxury toilets are so premium and advanced that it needs maintenance and cleanliness at its best and our professionals are never back at doing their job. We provide you A-one maintenance and cleaning for your restroom so that you won't need to compromise hygiene and cleanliness.

Quality Products:

When the restroom itself is luxurious, how can we compromise on the quality of products? If you are a regular user of luxury restrooms, you will know in a second that the product quality is bad or good. We don't want to offend our client's satisfaction and lose them and that's why we don't compromise on the quality of products or features.

Premium experience:

When you are in a luxury restroom, you should feel premium and rich. We make sure that you are given all the features and facilities inside the portable restroom so that you feel like you are in premium restroom to enjoy yourself.

Environment friendly materials:

We use environment friendly products and materials like biodegradable plastics and products made of wood for a better environment and sustainability. 

Regular monitoring:

Our professionals monitor the restrooms or services throughout the duration of your event to make sure that you are getting luxury in the restroom. We are very conscious about attention to detail that our client loves and they feel like they are valued.
Our toilets are designed in a modern and advanced way using the latest technologies, we assure you the best efficiency and cost containment. We have premium durability as we use those materials only which we know from experience. Our toilets will save your investment as there are no chances of toilets and restrooms wearing out or getting damaged. We are very affordable and are budget friendly so if you want our service, please contact us.
Conclusion
Get yourself a luxury restroom from our rental service at a very affordable and reasonable price. Create yourself and your guests a memorable event with our portable toilets and restrooms with luxury. With our beautiful interior designs, climate controlled toilets, full length mirrors, LED lighting, Floral arrangements, decorations with themes and features of all your choice, we provide you customized luxury too. The trust and faith of our clients towards us is the only reason that motivates us to keep doing what we do. Contact us today to be part of our journey. We also provide other services like Restroom Trailers and Handwashing Stations. 
We are very committed to our client's safety and satisfaction and that is the main thing that sets us apart. We are happy to serve our customers wherever they want and however they want because we make individualized restrooms for people who need them. We provide you with VIP and luxury feelings in restrooms. Our designs are cool and beautiful which are all modern and advanced with premium finishing, stylish decoration, extra lightings and warm environment.t The amenities that we provide to our luxury toilets are very classy and worth every penny. Our VIP have extra and safe privacy with large space compared to other restrooms that can make your guests feel comfortable and at ease. Our restroom trailers are comfortable and luxurious option in comparison to traditional restrooms. If you want to get more comfortable and more luxurious restrooms, then you can hire us right away. We are always there for you to help you.